By admin on Nov 20, 2019 in Software
Online graphic programs are great tools for processing images for your business, and you don't have to be very experienced to use them.
You have a company page on Facebook, a profile on Twitter, a flyer to create, or a blog to fill with articles and images. You are not so experienced with Photoshop, and your maximum experience with graphic programs has remained at Paint. In this article, I will explain the features of DesignCap, a very useful and easy to use software.
DesignCap is one of the free professional graphics programs in which you can create images for social media, blogs and flyers, without having to worry about searching for the dimensions for individual projects or having to spend several hours for a simple retouching of light!
How DesignCap Works
To access DesignCap, there is no need for you to have a company account. Just log in with your personal profile via Facebook or Gmail.
After accessing DesignCap's home, you will find a button to start. By clicking on the "Get Started Now" button, you will see thousands of templates divided by categories.
The Social Media Header category has YouTube Channel Art posts, Facebook Cover, Twitter Header, Tumblr Banner, and Email Header. Choose the type of project and start the game.
On the left sidebar, there is a list of options: Template, Graphic, Photo, Upload, Text, and Background. These are the tools you can use to create your design.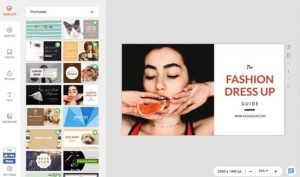 By starting with a template, you don't necessarily have to leave the photo you find. After deleting the default one, you can insert a new image from DesignCap's archive by going to Search and entering the keyword of the image you need, or you can choose your own images to upload instead.
Now touch up your photo: Click on the image to display a panel with different items, and then with the Effect button, you can increase brightness, clarity, and intensity. You can also decide to increase or decrease the transparency of the image.
Change the text: If you have chosen a predefined layout, surely there will be a sentence. Feel free to insert the content you want. You can change the font according to your taste, perhaps one that reflects your company.
After you're done, all you have to do is download and save the design by clicking on Download.
Now it's your turn! Choose the channel on which you want to advertise your company and create an image that captures the attention of your audience.