By admin on Jul 8, 2013 in Software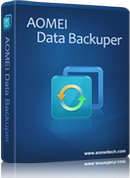 Have you ever experienced a computer failure? Have you ever been faced with data loss? What would you after losing your data? As a matter of fact, most computer users will be helpless if this circumstance happened. In that case, you will think that backup of all your data is a necessity. Today, I will recommend such a program to backup you data for protection, for free!
AOMEI Backupper is one of free backup software to protect your data on Windows PC and Server OS. It supports one-click backup system drive, backup disk & partition, create disk images and clone hard drive, and its working environment is Windows 8/7/Vista/XP and Server 2012/2011/2008/2003, both 32bit and 64bit.
The Interface
Clean, simple and pretty look is the first sight of this software presented to you. Also, when you set up the installation file, there is no extra plugins for this software. So, you can feel at ease.
See this main interface below:
Main Interface
Backup Feature
Backup is needed because we need to avoid losing data. AOMEI Backupper provides three types of backup: Disk Backup, Partition Backup and System Backup.
Disk Backup: MBR disk, GPT disk, external hard drive, USB disk and other storage devices can be backed up according to this feature. To some extent, it can be a saver when you're faced with the problem of system crash or hardware failure.
Partition Backup: Some of you do not prefer to backup a whole disk, and backup a partition or volume is a good choice. With this feature, one or multiple partitions & volumes, including dynamic volumes, can be turned into an image file.
System Backup: System to a computer is like the heart to a person. When the system refuses to work, the whole computer doesn't work. So, system backup is important! This software supports one-click backup of the system drive, including system files and applications.
Restore Feature
Just like backup features, it also provides three restore features: System Recovery, Disk & Partition Recovery, and Selective File Restore.
System Recovery: To ensure system is bootable, system recovery is a necessary step. It can let you easily and quickly restore your system.
Disk & Partition Recovery: It is able to recover the whole hard disk, like MBR disk, GPT disk, and external hard drive, etc. What's more, dynamic volume is also supported. It can restore it to the original state.
Selective File Restore: This feature permits you to recover individual files and folders selectively from a backup image file as some computer users don't like to restore the entire backup.
Clone Feature
Up to now, it just supports Partition Clone and Disk Clone. If you need to upgrade your hard drive to a new one, replace the old one, or migrate to a new one.
Clone Option
Partition Clone: It helps you create an exact duplication of a partition or volume. It can also directly transfer it to another partition or dynamic disk volume.
Disk Clone: It will directly copy one disk to another without creating an image file. Also, you can resize the partition during this process. A small one to a larger one is also acceptable.
Other Feature Check Image: It can check data integrity of image files to ensure the backup is restored successfully.
Create Bootable Media: A bootable media, like a CD or USB media, can be created in case the system suddenly refuses to work one day. If that happens, the bootable media can restore the Windows system.
Explore Image: This function can mount image files to a virtual partition so you can browse all the contents of backups in Windows.
Conclusion:
AOMEI Backupper is an excellent tool. The structure of this software is so easy to use, even for a novice. With the option on the left side, you can easily select the option you want to perform. It is totally free for commercial and home users, including Server users. For more information, please visit the product homepage.