By admin on Oct 24, 2012 in Hardware, Windows 8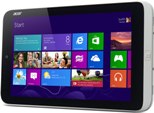 While Apple has undoubtedly ruled the tablet space so far, new players have recently entered the arena with innovative devices all set to give the iPad stiff competition. Microsoft's Surface tablets running on Windows 8 and the many Android tablets are the new players on the field. But before Windows and Android tablets can get around to challenging the iPad's superstar position they first have to wage war against each other.
Surface RT may be Microsoft's homegrown tablet but it's not the only one running on Windows 8. Also on the pitch are tablets like Acer's Iconia W510 and Asus's Vivo. These tablets boast the complete Windows 8 OS and many customers would be unlikely to resist its allure as compared to an ARM-based model considering both, the W510 and Surface RT are priced at an equal $500.
Microsoft's very first attempt at hardware manufacturing, the Surface tablets can be referred to as Microsoft's flagship tablets. One of the versions of the Surface will be running on Windows RT which is an operating system based on Windows 8 but powered by an ARM processor (NVIDIA's 1.4GHz T30 Tegra 3 quad-core processor). Some of the foremost Android tablets will also be powered by ARM Cortex-based CPUs similar to the one above.
One aspect where the Surface RT comes out victorious is its 2GB RAM. Android tablets will be shipping with the smaller 1GB RAM. The additional memory could make all the difference when running multiple applications simultaneously and playing graphics-intensive games. The Surface RT is also the only tablet with a USB 2.0 port and no Android tablet currently has one. Surface RT's 10.6-inch wide display is half an inch bigger than most Android tablets. The wider screen space is an added advantage for side-by-side multitasking of applications that Microsoft offers.
The storage capacity on the Surface RT will start at 32GB. At $499, that's two times more than what most Android tablets with a similar price tag will offer. Notable exceptions are Android-powered Acer's Iconia Tab A700 and Asus's Transformer Pad Infinity TF700 that fall in a similar price range but offer a baseline capacity of 32GB.
Acer, Lenovo, Samsung and Asus are all planning to come out with Android tablets. But all have recently announced that they'll also be manufacturing new tablets running Windows RT. Even a glance at these newly announced Windows tablets is enough for anybody to realize that they've been heavily inspired by the hardware design of Android tablets.
There seems to be a clear trend towards laptop docks and optional keyboards with tablets. Asus first began the laptop dock design with the Android-powered Transformer tablets and will now take the design on to Windows 8 with Vivo. These major OEMs have produced many Android tablets by now and all their learned expertise will go into making high-class Windows 8 tablets. So in a way it is thanks to the many Android tablets that customers of Windows 8 tablets will have a plethora of choices to pick from.
This guest post is brought to you by NATHAN BROWN of buyatt.com, a site that offers savings and current information on ATT Uverse TV .