By admin on May 23, 2011 in Apple, Laptops, Windows 7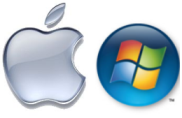 After more than 10 years of using PC and Windows, I'm getting close to buying my first Apple product. Now that I need a new laptop, I'm really thinking about upgrading to an Apple MacBook Pro. It seems that Apple has finally managed to sell their product to me – and their flagship laptop model ticked most of the boxes:
1. The thin and sleek design that everyone loves so much – I like it too, no surprise
.
2. It doesn't overheat. Even after several hours, the case doesn't get very hot – now that's a major tick!
3. The battery lasts up to 8 hours – another plus!
4. I can finally learn a little bit more about Macs and their operating systems.
5. I can install Windows 7 and use both systems on a dual boot setup – this is very important. I need to be able to use Windows, because, let's face it, some programs simply don't work on Mac(s).
6. I will have to worry less about viruses if I work with Mac OS X.
7. Apple warranty has improved over the last few years and their service will fix your laptop if it has any faults.
Obviously, there are more good things about Macs, but one of the main advantages is the design. Some people don't care about that, but for some reason this is a very important factor in my laptop selection. I need my laptop to be thin and good looking. I don't like chunky and heavy laptops.
I did some research over the last few weeks and attempted to find a laptop with a Windows system that at least comes close to a MacBook Pro in design and built quality. I was unsuccessful. HP Envy series comes close to the design, but it gets hot!
Now to the other issue. How do you install Windows 7 on a Mac? Well, all you need is your Apple laptop, Windows 7 installation disc, Mac OS X installation disc, Apple software called Bootcamp, and Internet connection. It is not difficult, and there are instructions all over the Internet. I like this video demonstration at Welcome to Your Mac – because you can actually see the installation with your own eyes before you attempt it on your laptop, and it's quite easy to follow.
Good luck and enjoy your dual boot setup!