By admin on Feb 17, 2011 in Viruses and Spyware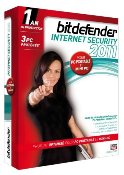 More than 100 new viruses are released and spread via the Internet every single day, making your antivirus software the most important program you have installed on your computer. Life in the antivirus software world is a constant game of 'catching up' because so many new viruses are released. For best protection, it is absolutely crucial that you update your software as often as possible.
Before we get into the best antivirus software downloads, let's take a minute to talk about how antivirus software works. Most people don't really understand how the software works, leaving them more vulnerable to catching a virus.
Real Time Antivirus Protection:
Most software uses what's called 'signature scanning' to detect viruses or malware on your computer. Antivirus software has a database of known viruses, so every time you open or access a file, the software will scan the database. The best antivirus software has anywhere from 20,000 to 60,000 known viruses stored in their database, which is why your computer sometimes runs a little slower after you install the software.
On Demand Antivirus Protection:
'On demand' scanning only checks for viruses when you manually prompt it to. This leaves your computer unprotected from viruses in between scans. Real time antivirus scanning is a much better way to protect your computer because you stay protected at all times. Really good antivirus software will actually use a combination of both types of scanning to keep your system protected.
Antivirus software can also monitor your computer system for suspicious activity, which is usually a sign that you have a virus. Sometimes the software will plant 'decoy files' that you can't access and don't know about (as the user) and then the software 'watches' to see if the files are altered. If they are, it's almost always a virus.
The best antivirus software will use the Internet to automatically update whenever a new or dangerous virus is released. Most free or cheap programs require you to manually update your software (on demand protection). The best antivirus software usually costs less than $50, so it's worth the money to keep your computer protected. However, if you don't want to fork over the money for protection, here's a list of five of the best free antivirus software from 2010.
Microsoft Security Essentials
This antivirus software from Microsoft is totally free and works great with your system if you use Genuine Windows. The detection rates are pretty good and the software provides your PC with real-time protection against malware, spyware and viruses. Microsoft Security Essentials is easy to install and use and is always kept up to date so you can rest assured knowing your PC is protected. Microsoft Security Essentials Free Download
Avast!
Avast! detects viruses inside of your computer. This powerful antivirus kernel has a boot-time scan, script blocker and improved resident protection, as well as real-time protection for the web, e-mail, network shields and P2P. The software take a bit of time to register, but once you've registered it, it's very easy to use. This software is for non-commercial and home use only. Avast! Free Download
Avira AntiVir Personal
Talk about fast! No matter the type of virus – Trojans, spyware, spam, worms, dialers, malware, etc. – Avira AntiVir Personal is a very fast virus detector and has a fast scanner, real-time protection, daily updates and a huge dictionary of viruses. When it comes to finding malware Avira is pretty outstanding. The only downfall is there is no e-mail scanner in the free version, but if you open an e-mail that's infected, the software immediately jumps into action eliminating the threat. Avira AntiVir Personal Free Download
PC Tools AntiVirus
This antivirus software is an all-in-one program that protects against Trojans, viruses, worms and also scans incoming and outgoing e-mails. The antivirus software provides you with on-demand scans and also automatic updates. This software will protect your system from the most nefarious cyber-threats. P.C. Tools AntiVirus Free Download
Bitdefender
Bitdefender provides advanced protection against viruses, spyware, malware, phishing attacks, Trojans and other real-time threats. The download only takes a few minutes and it won't slow down your computer speed. There's also a cool new feature that helps protect leaking your personal information over the web, IM or e-mail. Bitdefender Free Download
Kate Schneiders is a technogeek and self-proclaimed 'word nerd' for TopTenREVIEWS. A journalist at heart, Kate enjoys researching and writing about antivirus software, security and cybercrime.