By admin on Dec 18, 2013 in Software
There are already some useful software programs that you can use to edit, combine or just play with your PDF files. However, I am sure that you didn't know that you can make astonishing and compelling e-books from your PDF files.  Flip PDF will enable you to convert your PDF files into stunning ebooks with various effects and sounds. What is great about this software is that everything is simple and you don't need to have any programming skills. You will be able to create your first beautiful page flipping eBook by following few simple instructions.
Creating page flipping eBook from your PDF is not the only feature of this great software. There are also various features that the creators of Flip PDF designed for the end user. First of all, you can create normal and mobile versions of your eBook. When converting your file, Flip PDF will keep the bookmarks and hyperlinks of your PDF file. You will also be able to search by keyword through your eBook.
What is great is that Flip PDF comes with various templates on which you can add banners, news rotators, photo sliders and even music (continuous play or for certain duration). There are also neat editing features like setting different fonts, changing margins, add shadow, set background color and image etc.
Check the FlipBuilder Showcase to view various eBooks online.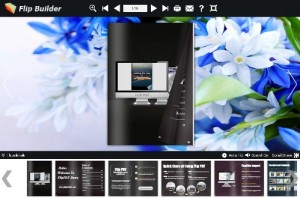 Additionally, Flip PDF will offer you many different output formats that can be useful to you in many ways. You can publish your eBooks directly online or choose to export it as html, exe (for Windows), ZIP, Mac App, mobile version or you can directly publish your eBook to a FTP server. This is extremely important if you want to satisfy all of your customer or readers' needs.
At the end of the day, you have to respect software like this. Not only that it will eventually lead you to increasing of sales, but also it will increase the image and the way that people are looking at your business or organization. This software will enable you to show all of your uploaded books like BookCase with an integrated shopping cart. This will make your job much easier and it is perfect for publishers who have all their books in PDF format.
The designers of Flip PDF are a team of highly professional experts who strived to create simple software with countless but useful features and they indeed did a great job. I think that these kinds of software programs are rare nowadays. Creative and quality, Flip PDF will make your PDF pages flip and much, much more!
For more detailed information of Flip PDF software, kindly visit http://flipbuilder.com/ and have a nice experience!