By admin on Apr 29, 2012 in Software, Viruses and Spyware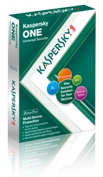 With the array of computing devices that are being used by the general masses it is very clear that the threat of cyber crimes and attacks has also increased tenfold. Computing devices are now being used in every aspect of the life. From personal computers to smart phones the threat of losing your data and being more prone to attacks has resulted in creation of the Kaspersky ONE Universal security 2012 by the Kaspersky labs.
This ingenious software is an umbrella protection that covers all the computing devices that you have. It is a moonlit platform solution for threat management and is user centric. It allows the users to protect wide range of computing devices from laptops to tablets and smart phones.
Installation and set up:
Like the antivirus and internet security the installation of the Kaspersky ONE is incredibly cohesive and requires you to have one activation code that you can use on every platform having the software installed in it. Apart from this, the software will not be asking you to constantly upgrade for each device that is under the umbrella but in fact it is a one stop solution. It is on the discretion of the users how many devices they want to bring into the protection and is not restricted by the Kaspersky. For instance the package that covers four devices allows you to choose 3 windows based personal computers, and one Smartphone or whatever combination you want to have.
Interface and Features:
The software employs real time detection and helps in countering the attacks of viruses, worms, Trojans and malwares. Not only this but the software also has a spyware to prevent your personal data from harm that may be on the move and in unsecured networks making it prone to an extra pair of eyes. Apart from this the scanning potential of the software is incredible and needs appreciation as it can also be focused on specific files and folders that you require to be scanned. Similarly when you are using this software on your tablets and Smartphone, your apps and their activity will be under the scrutiny of the antivirus.
System Requirements:
The system requirements are basically dependent on the device that it will be protecting. For most cases the Kaspersky ONE demands as website states the following requirements to work:
Approximately 480 MB space free on hard drive (depends on the size of anti-virus database)
DVD/CD drive to install the program with CD ROM
A PC mouse
Internet connection to activate the product
Internet Explorer 6.0 or higher
Microsoft Windows Installer 2
Apart from this the individual requirements of each computing device can be researched on the website of the Kaspersky ONE which is http://www.kaspersky.com/one#Feature2.
Help and Support:
Kaspersky provides brilliant services and support to its customers. Even though most of their softwares are very simple to use but there remain many considerations that the user may have to find an answer to. Located on the website of the Kaspersky labs are a variety of options where you can get effective answers to your queries.
Conclusion:
It is a fact that every one of us nowadays is employing more than one computing device that is susceptible to cyber attack and harm. Kaspersky ONE is an innovation for content and threat management that the company has excelled in for many years. With the demand of these computing devices it was only natural for the cyber attacks to increase. But the Kaspersky ONE is a simple yet elegant solution that provides an umbrella protection for the user in the most simplistic and coherent manner.
Khurram Shahzad is an experienced IT Professional specializing in software reviews, Windows Tips and tricks, he is also a contributor to web site http://www.dailydeals4you.com/, which provides antivirus software coupons such like Kaspersky coupon, F-Secure coupons etc.