By admin on Mar 2, 2010 in Security, Software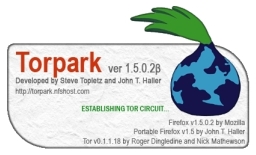 I have recently published a post about Ultrasurf, a program that enables you to surf the Net anonymously and securely, but now I have found something even better: the XeroBank Browser. Previously called Torpark, the XB browser is an open source browser that works similar to other 'anonymous' browsers, but it may be even better. Open source means it's free.
XB browser not only allows you to hide your IP address and identity/location details, but it's safe against spyware and pop-ups. In addition, it's fully portable, so you can run it from a USB stick and you don't have to install it on your hard drive. It also doesn't store a cache or cookies on the hard drive. It's simple to run and there's no need to configure anything. It is actually very similar to the Firefox browser.
So if you don't want your ISP to know what sites you visit, then hide your tracks with XB browser. No one will be able to identify you or collect data about you on the Internet.
The only downside seems to be that it can slow down your Internet speed, but if you have broadband, I don't think this will be a problem.
Download the latest version of the XeroBank browser here.