By admin on Dec 10, 2013 in PC Crash, Software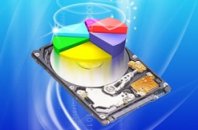 Ever since Partition Magic was discontinued, I've been looking for a decent free alternative. Partition Magic used to be so powerful and easy to work with, and I thought nothing will be able to replace it – at least no other free version. However, as years go by, new companies and new products come to the market, and I think I finally found a replacement for all my Windows partition needs: EaseUS Partition Manager.
EaseUS Partition Manager will easily let you split, merge, copy, extend and restore your Windows partitions, just like Partition Magic used to do. In fact, EaseUS is more powerful and has more features: It offers support for 32 and 64 bit software and Windows versions 2000/XP/Vista/Windows 7 SP1/Windows 8. You can also copy entire disks for backup or disk upgrades and you won't have to worry about data loss, as it is fully equipped to recover lost or deleted partitions. Another handy option is the ability to extend system partition to maximize computer performance.
Here are some of the features:
Partition Manager
Create, Delete, Resize/Move, Merge, Split, Wipe or Format partitions
Disk/Partition Copy
Upgrade/migrate/copy disk and volumes for data protection or disk upgrade
Partition Recovery
Recover deleted or lost partition on unallocated space or recover lost partition after repartitioned hard drive
System Performance
Safely maximize PC performance under Windows and WinPE based bootable disk
The software is used by over 15 million users and it was awarded five stars by CNET Editors, and the best thing about it, it's free for Home users! To get more information, including the full set of features and benefits, and to download the free edition, please go to the EaseUS Partition Manager home page.
EaseUS site also has a valuable resource page called Partition Magic Resource. It offers information about the discontinued Partition Magic software and its alternatives, as well as helpful topics and technical support, similar to a FAQ page.