By admin on Dec 22, 2012 in Fun with your PC, Hardware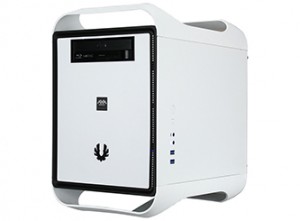 For people who have space constraints, the AVA Direct Mini Gaming PC offers the best solution. It is quite small, measuring just 15.5 inches in length, 9.6 inches in width and is just 13.9 inches in height. It sits pretty tiny and does not resemble a PC, maybe it looks like a miniature version of a CPU. In addition to being small, you can call it impressive to look at. The pale white color with hints of black adds to the bland look. The design seems to have a basic flaw; the handles provided are found on the front and back instead of the sides. It is quite an exercise trying to lift it, let alone carry it anywhere.
Once you open the side panel of the Mini Gaming PC to take a peek at what's inside, you'll see how cluttered everything appears, with hardly any breathing space. This rules out upgrading if you have something like that in mind. What you will find inside is the Intel Core i7 processor with 4.4 Gigahertz and an impressive random access memory of 8 Gigabytes that you will certainly need.  What's more, if you think that is not fast enough for you, upgrade it to 16 Gigabytes. There is absolutely no provision to even add a basic sound card or any other storage device.
You will not have any issues with connectivity as everything is perfectly in place. To the right of the panel is placed the headphone jack and provision to fix the microphone. You will also find a couple of USB ports (3.0). On the rear you will find a lot more eight of them, four of 2.0 and another four of 2.0 along with a jack for connecting the Ethernet cable and ports for audio and video (HDMI). However, you will probably be using the DVI ports instead. The great thing is you don't have to worry too much about the lack of working space for anyone trouble shooting. The reason is that the gaming PC is covered by a three-year warranty that includes parts and labor, so it is going to be their headache. However, in case you have small issues you can call up tech support, which you will get for lifetime free of any charges.
The price might sound a bit stiff at $2000, however when you compare this with some others that can go up to $5000 it could offer some comfort. Its performance though, is guaranteed as it scores a comfortable 200 on a WorldBench 7 benchmark test. It is as good if not better than its nearest rival the V3 Convoy mini gaming PC. The startup time is quicker as it takes just 24.8 seconds to do so when compared to the V3 Convoy, which takes a good 36 seconds. The AVA Direct mini PC passed the Web performance tests comfortably with an impressive output of 26 frames per second which is slightly better than its rival the V3 which could manage 25.5 frames per second.
The AVA Direct is a nice gaming system for the price tag it carries, and will suit even serious heavy gamers. It performs really well, standing the test for graphics admirably, even at higher resolutions. This is the best choice for gamers who are on a tight budget, yet want a good performer.
This guest post is brought to you by ROBIN McKENZIE.